Can we talk about climate change Mr Trumpet?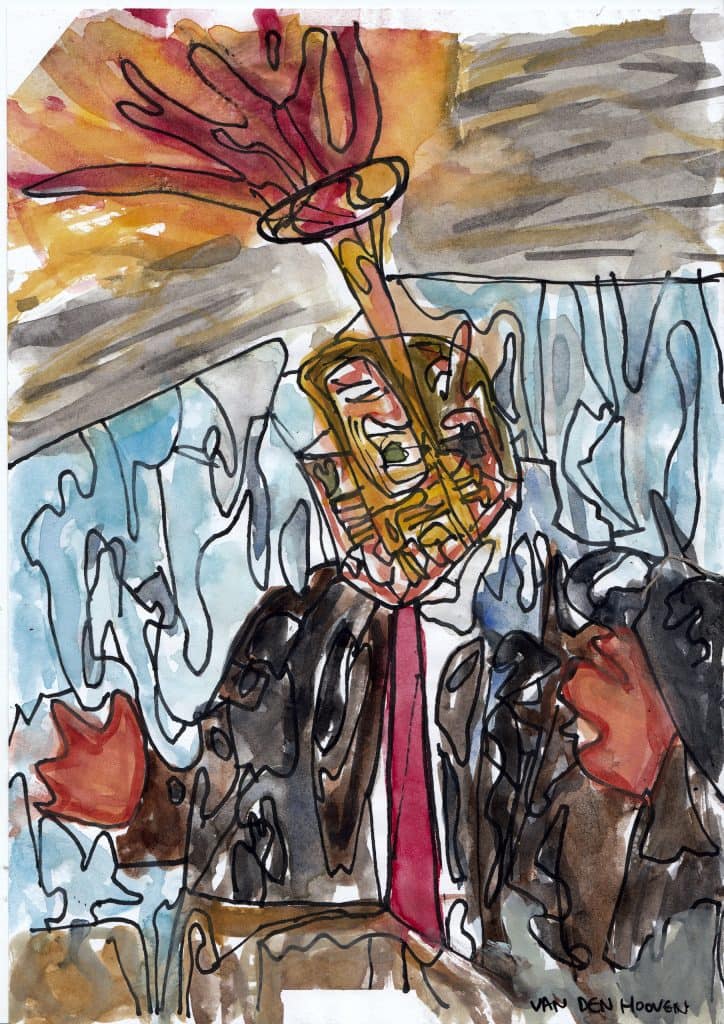 Rich, uneducated people almost never believe in climate change. Because I think the way they see it, "climate change" might as well be called "lifestyle change"… and we all know people don't like lifestyle adjustments. Especially if it means downgrading them.
Oh and by the way, yes I'm fuckin' FURIOUS alright! About this latest Paris agreement you bombed out on. You fucking-welldropped out of it, you pathethic small-handed fake-tanned little wanker! 1
Now if I had have known 22+ years ago that the president of the United States of America was going to be this #tangerinefuckknuckle, to coin a phrase, I never would have taken up my university on their offer to study science in the first place. I mean why bother?!
Why bother trying to be part of the intelligentsia? Or is that spelled 'intelligencia'? Never mind. Anything but listen to "the clever people". If the amount of clout and respect we recieve from fossil-fuel undivested bury-your-head-in-the-sand-and-the-problem-will-go-away complete FUCKWIT types is next to zero. I would have studied a creative field like art or design instead, way back then, if I had have known.
"The rest of the world applauded when we signed the Paris Agreement. They went wild. They were so happy — for the simple reason that it put our country, the United States of America, which we all love, at a very, very big economic disadvantage." — Donald Trump
No, Mr Trumpet,  no. Wrong! We cheered because the bonds in every single carbon dioxide molecule exhibit antisymmetric stretching and bending resonance modes at frequencies of 2350cm⁻¹ and 670cm⁻¹ respectively. We cheered because your country emits approximately 71,000,000,000,000,000,000,000,000,000,000,000,000 of these molecules every single year.
And I mean, shiiit, we could stand to lose money here people. MONEY! All those people in mining, construction, manufacturing, engineering, logistsics, transport. So we better put the economy first. Jobs first. America first!
But who's fucking atmosphere is it anyway? America's? No, we all share the exact same atmospheric coating —thin as it is.
Is there some great big motherfuckin' hermetically-sealed compartment bigger than the USA that I don't know about, protecting the likes of North America from extreme weather events that we know will happen? Because the last time I looked, those tropical cyclones whupped your Eastern seaboard arses! That's right. And you couldn't run and hide, you had to shut up shop, board everything up and close all business. That sure turned out to be great for Florida's economy, didn't it now?
And it turns out rich people should be a lot more worried that they are about this too. For one thing they love living on low-lying coastal regions. But even though they might be able to afford to move, their hard-working employees won't be able to afford to, will they? Less profit for you then!
If there's one thing scientists don't like, it's uncertainty. And see, that's half the problem. Isn't it? One or two degrees might not seem like a lot, but then, it isn't, is it? What we worry about isn't one or two degrees of warming over the whole surface of the Earth. That's the average. The variance in the temperature peaks and troughs could be much higher and lower, for example. What we worry about is some parts getting hotter than average by 8-10 degrees. What we worry about is some parts getting colder than average by 8-10 degrees. If that happened, the average temperature would still be the fucking same! But that doesn't mean that it's okay. Right?
What we worry about is chaotic changes in weather patterns. What we worry about are tipping points. What we worry about are graphs that spike up and down like a fuckin' yo-yo. Because that would be far worse than any global warming. If one year the planet was freezing cold like Mars and the next one it was like fuckin' Venus. That's not good for crops for one thing. If there is only one planet Earth, and we can't afford to downgrade this and wait fir the end of the experiment. We have to intervene now. NOW!
If there's one thing scientists fear, it's losing control of nature. So up until now, we've always had answers for you. But if you dumbarses don't start to listen, then what the hell can we do about it later on? When it's too late? Nothing. You'll be like "Oh you should have warned us decades ago that it was worse than we thought. If it was that serious, why didn't you jump up and down and shout out about it way more?". And we'll be like: "Well we told you, we told you so and you didn't listen. You just kept on buying great big diesel trucks instead of looking for a way out."
We should build a wall alright. We should build a 55-ft high wall, and all of the people who think our actions don't/can't/won't have any global effect or climate consequences should have their name co-moulded into that fuckin' wall for the sake of posterity. So when the world really does start to fuck up, future civilisations can have those people to thank for inheriting such a fucked up little world.